1851 Navy Revolver .44 cal Steel FR18512-02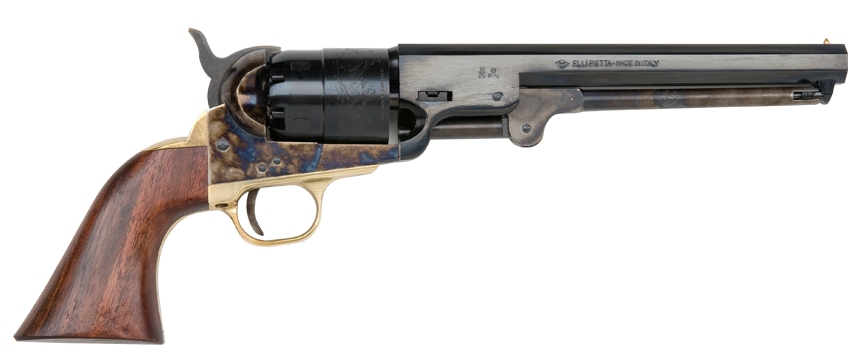 Save $75 with this deal! Only 1 left!
Union Army soldiers relied on many different types of sidearms for short range and close quarters combat. The revolver was unique in that it had the ability to fire several rounds per minute before having to reload. Revolvers were typically issued to officers and mounted soldiers, however some were purchased privately or found on the battlefield by infantrymen.

Distinguished by its octagon barrel and lever style loader, the 1851 helped to begin both the expansion of the West and the Civil War. The 1851 Navy is commonly considered to be one of gunfighter "Wild Bill" Hickok's favorite handguns. The British government licensed the manufacturing rights and produced what is commonly known as the London Model. This revolver features an 7.5" octagonal barrel, steel frame, brass guard, and walnut grip. It is available in .44 caliber, weighs 2.75 lbs., and is 13.5" in length.
Factory Seconds:
Are you looking for a great deal on the top muzzleloaders in the industry? Take a look at Traditions Factory Seconds. Our Factory Seconds are the same great quality you can count on with a brand new Traditions firearm, but they may have a small blemish in the finish, a scratch or dent, or may have been one of our test fire guns that we used at the range. All of these guns are in perfect working condition and carry the limited lifetime warranty that Traditions offers with its brand new firearms. Supplies are limited to what we have on hand and all of these firearms have been inspected and tested by our factory trained gunsmiths. What a great way to own the best and pay a lot less!
Item #FR18512-02
WARNING: Black powder firearms cannot be shipped to New Jersey, New York City, Illinois, Michigan, Ohio, or Canada. For all other states, please review your state and local laws before ordering. Additionally Traditions Firearms is not responsible for typographical errors in pricing and reserve the right to change pricing at any time.
1851 Navy Black Powder Revolver Features:
.44 Caliber
7.375" Blued Octagonal Barrel
Brass Guard
Walnut Grip
Steel Color-Case Hardened Frame
Top Strap/Post Sights
Overall Length: 13.5"
Weighs 2.75 pounds
No support files available
No videos available