Vortek Pistol .50 cal Reaper Buck Camo/CeraKote with 1-4x24 scope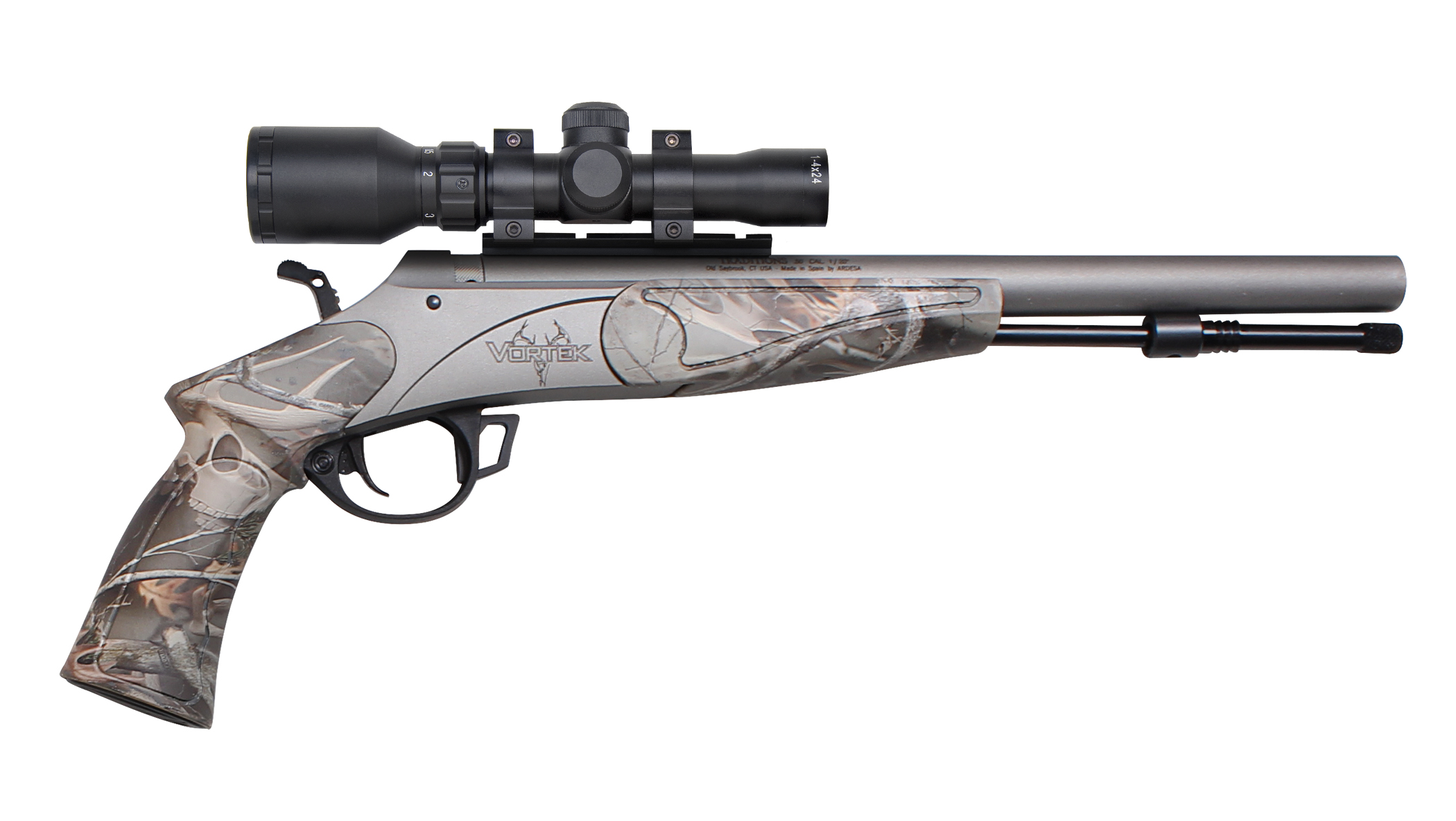 Save $149 with this special! Only 3 left!
Designed after the performance-proven Vortek™ Muzzleloader Rifle, The new Vortek™ Pistol will add a new dimension of shooting for the blackpowder enthusiast. The break-open action with the Accelerator Breech Plug™ makes this rifle easy to shoot and clean! Now the Vortek™ Pistol is available with synthetic grips which make this pistol extra durable. Whether you are at the range punching holes in targets or looking to add a new element to your hunting experience, the Vortek™ Pistol can deliver!
This pistol comes with a 1-4x24 matte black scope mounted and boresighted by a factory trained technician. Also has Reaper Buck camo grip and forend. This pistol does not come with sights.
Factory Seconds:
Are you looking for a great deal on the top muzzleloaders in the industry? Take a look at Traditions Factory Seconds. Our Factory Seconds are the same great quality you can count on with a brand new Traditions firearm, but they may have a small blemish in the finish, a scratch or dent, or may have been one of our test fire guns that we used at the range. All of these guns are in perfect working condition and carry the limited lifetime warranty that Traditions offers with its brand new firearms. Supplies are limited to what we have on hand and all of these firearms have been inspected and tested by our factory trained gunsmiths. What a great way to own the best and pay a lot less!
Item # P1-151178-02
WARNING: Black powder firearms cannot be shipped to New Jersey, New York City, Illinois, Michigan, or Canada. For all other states, please review your state and local laws before ordering
Vortek™ Pistol Features:
209 Shotgun Primer Ignition
Accelerator Breech Plug™
13" Ultralight Tapered Barrel with Premium CeraKote Finish
Synthetic Grips
LT-1 Alloy Frame with Premium CeraKote Finish
Speed Load System - for easy loading and more consistent groups
Dual Safety System - rebounding hammer and trigger block safeties
Soft Touch Camo Stocks
1:28" Twist Rifling
Extended Ambidextrous Hammer Extension
Drilled and Tapped for a Scope
Solid Aluminum Ramrod
Weighs 3.25 pounds
Max Charge 70 Grains
No support files available
No accessories available