Vest Pocket Derringer .31 cal Simulated Ivory/Brass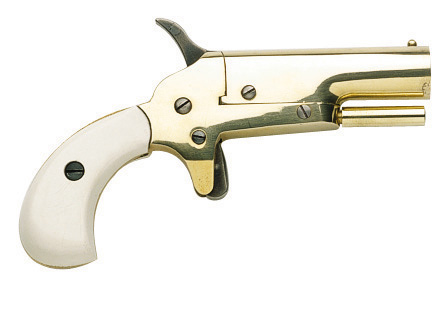 Limited Quantity! Save $63 with this offer!
The Vest Pocket Derringer is avaliable in .31 caliber, Percussion ignition system and has a 2.25" brass round barrel. This pistol has a simulated ivory stock and is 4.75" in length. It has bead sights and weighs on 3/4 of a pound.
Factory Seconds:
Are you looking for a great deal on the top muzzleloaders in the industry? Take a look at Traditions Factory Seconds. Our Factory Seconds are the same great quality you can count on with a brand new Traditions firearm, but they may have a small blemish in the finish, a scratch or dent, or may have been one of our test fire guns that we used at the range. All of these guns are in perfect working condition and carry the limited lifetime warranty that Traditions offers with its brand new firearms. Supplies are limited to what we have on hand and all of these firearms have been inspected and tested by our factory trained gunsmiths. What a great way to own the best and pay a lot less!
Item #P1381-02
WARNING: Black powder firearms cannot be shipped to New Jersey, New York City, Illinois, Michigan, Ohio, or Canada. For all other states, please review your state and local laws before ordering.
Vest Pocket Derringer Features:
.31 Caliber
2.25 Brass Round Barrel
Spur Trigger
Bead Sight
No support files available
No accessories available
No videos available