1860 Army Black Powder Revolver Redi-Pak .44 Cal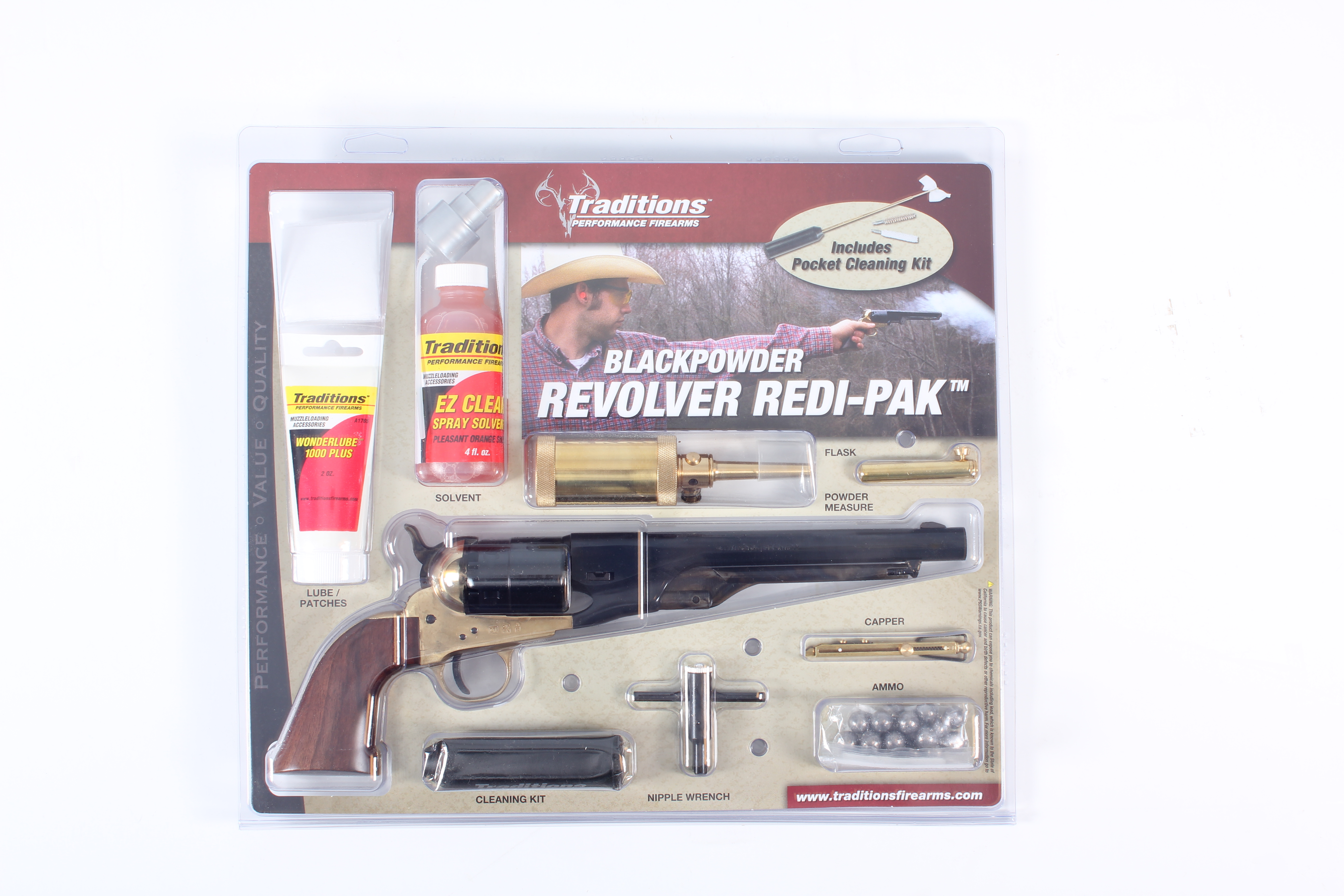 This Redi-Pak comes with an 1860 Army Black Powder Revolver .44 caliber and also all of the loading, shooting, and cleaning accessories you need to shoot your revolver! All you need to enjoy a day at the range is powder, caps, proper eye and ear protection, and a place to go shooting!
Recognized as the mainstay of the Union Army, the 1860 was ordered to fill the ranks. The .44 caliber revolver was as powerful as it was popular. After the Civil War, 1860 could long be found in Army posts and across the frontier. This revolver features an 8" blued barrel, brass frame, brass guard, and walnut grip. It is avaliable in .44 caliber and has hammer/blade sights. This revolver is 14.5" in length and weighs 2.75 lbs.
Accessories included in this Redi-Pak are:
Cleaning Patches (QTY 25)
Nipple Wrench
Revolver Lead Balls .44 cal (QTY18)
Brass Field Capper
Field Flask
Wonderlube™ 1000 Plus
Revolver Powder Measure
Muzzleloading Bore Solvent
Pocket Cleaning Kit
Item #FRS18601
WARNING: Black powder firearms cannot be shipped to New Jersey, New York City, Illinois, Michigan, Ohio, or Canada. For all other states, please review your state and local laws before ordering. Additionally Traditions Firearms is not responsible for typographical errors in pricing and reserve the right to change pricing at any time.
1860 Army Revolver Features:
.44 Caliber
8" Blued Round Barrel
Brass Guard
Walnut Grip
Brass Frame
Hammer/Blade Sights
Overall Length 14.5"
Weighs 2.75 pounds
No support files available
No accessories available
No videos available