TRACKER
Legal use in the northwest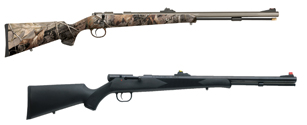 The Evolution™ is a bolt action muzzleloader that is packed with features. The 24" fluted barrel keeps the gun lightweight and the Premium CeraKote Finish helps protect the rifle against corrosion from black powder, cleaning chemicals, and weather.
The Tracker™ is an excellent option of you are looking for a feature-rich gun at an affordable price. Complete with an in-line slide bolt action and quiet thumb safety, this rifle is easy to use. The 24" barrel keeps the gun light and easy to carry on long hunts. The Tracker™ comes with both 209 and musket ignition systems.
If you are in the market for a bolt action rifle, look no further than the performance proven Evolution™ or Tracker™!